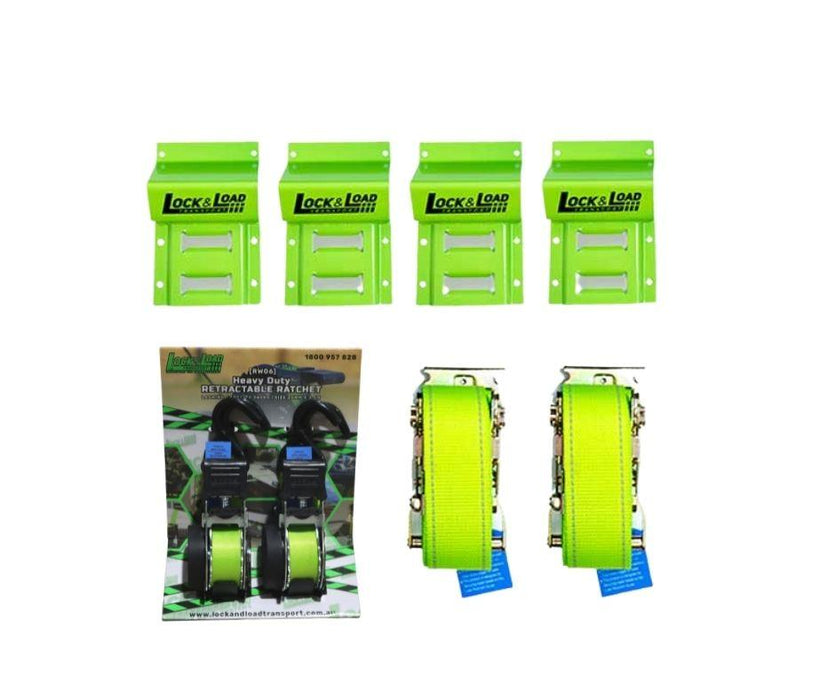 Wheel Chock Kit with 1.8m Straps & 25mm Retractable Ratchet - RW15
Original price
$205.00
-
Original price
$205.00
This kit includes heavy duty fluorescent webbed straps with 'E' fittings designed to slot into wheel chocks, ideal for vehicles with standard clearance height. Wheel Chock Kit includes 4 Wheel Chocks and 2 x 50mm x 1.8m Lock and Load Heavy Duty Transport Straps with E-Clips. Total Lashing Capacity 2000kg.
This kit also includes  2 x retractable ratchets 25mm x 3.6m - 340kg capacity.
NOT always suitable for lowered cars. Please select E-track kit RW12, RW22 or RW52. 
Fastening kits not included. However, we use grade 8.8 high tensile bolts with nylock nuts or spring washers- and the length of the bolt is determined by the trailer floor plate thickness. Our installation guide is pictured below.
Complete Vehicle Tie Down Kit

A badly tied load can quickly turn a camping/outdoor adventure into a nightmare - I'm sure you've stories of adventurers arriving at their destinations only to find crucial items lost on the way.  Here at Lock & Load Transport, our mission is to help you avoid your own stories of woe!
Check out our range of tiedown straps, ready to withstand whatever the Australian wilderness throws at them - we stock an impressive collection of car trailer tie-down systems in different load capacities, lengths and styles. The ratchet designs are made for very heavy loads of up to 2500 kgs and will firmly cement in place whatever vehicular load you need to be transported. Our tie-down straps are legally certified and ADR compliant so you can ensure they'll do the job while doing it right.
How Do I Use The Vehicle Tie-down Kit Effectively?
Get The Right Kit 
Lock & Load Transport car tie-down kits come in a variety of designs:
Wheel chock kit- used for standard height vehicles with a 1.8m strap

E-Track Kit- used for lowered vehicles comes with E-track plates and 3.65m straps

Adjustable E-Chocks, 1200mm E-Track and either 1.8m or 3.65m Straps that can be used for setups with multiple vehicles. Simply move the E-chock along the track to the desired point.
Additionally, to ensure vehicles are being tied down with 4 points of contact as per the load restraint guides there are 2 options for stabilising the rear of the vehicle:   
A 25mm x 3.6m retractable ratchet strap with a 340kg lashing capacity

A 50mm x 3.6m retractable ratchet strap with a massive 750kg lashing capacity
For our heavy truck transporters we have the following;
A 50mm x 9.5m ratchet strap with reflective stitching & swan hooks with a total Lashing Capacity 2500kg.
Inspect And Mount 
It is important to inspect the straps for fray and wear as a result of things like friction or sun damage - be mindful of any strap that shows damage, it's likely that it will need to be discarded and replaced. The trailer tie-down straps should be mounted between two sturdy anchor points while keeping in mind that the strap can only support the load if the car trailer tie-down points are capable of supporting that amount of weight
When using the car ratchet strap mechanism, feed the end of the strap through the mechanism and back towards the hook (the strap end attached first, followed by the ratchet end). Ensure there are no twists in the car trailer tie-down straps.

Put a little tension in the strap and inspect where it lies for any sharp edges or anything else that may damage the strap - if anything looks concerning, place something between the strap and the sharp edge - for example, a corner protector which is available in the Lock and Load product range. Make sure to also check that the strap doesn't cause any damage to the load courtesy of pressure when it's fastened.  When your inspection is done, use the ratchet to tighten the strap to the final required level of tension. 
Releasing The Straps 
When it comes to
a technique for releasing our car ratchet straps
, you simply need to use the two provided release trigger mechanisms. First, pull the top trigger back and raise the ratchet halfway, releasing the trigger back into place, then apply some pressure to the ratchet handle and simultaneously using your other hand pull the second release lever inside the ratchet mechanism holding it back. 
You can then slowly lower the ratchet handle to ease the tension on the strap. Repeat this step until the strap is loose, at which point both release levers can be used to free up the mechanism and completely remove the strap. For a detailed rundown/installation information, visit our installation advice section of the website..
What Materials Are Used To Make Lock & Load Tie-down Kits?
Lock & Load Transport's strap kits are designed for rugged use - we understand the type of environment and terrain our clientele are exposed to. The straps are made of high tensile strength materials while ratchets are made of strong polymer that can withstand high-pressure loads.  The car trailer ratchet straps come in luminous green for easy use in low light and our kits are specifically designed to be resistant to scratching, fraying and cutting. Our Truck Ratchet straps also have reflective stitching which will make it obvious to the driver if there are any loose ends. 
Where Can I Find Out More About Your Tie-down Kits?
For any queries on the appropriate car tie-down straps in Australia, do not hesitate to contact us on 1800 957 828, or via email sales@lockandloadtransport.com.au.   Our friendly and professional customer service team are always happy to provide helpful tips and recommendations.
If you need bolts, add 2 of our kits below